How to Make Appetizing Teeney's American Shepherd's Pie
Teeney's American Shepherd's Pie.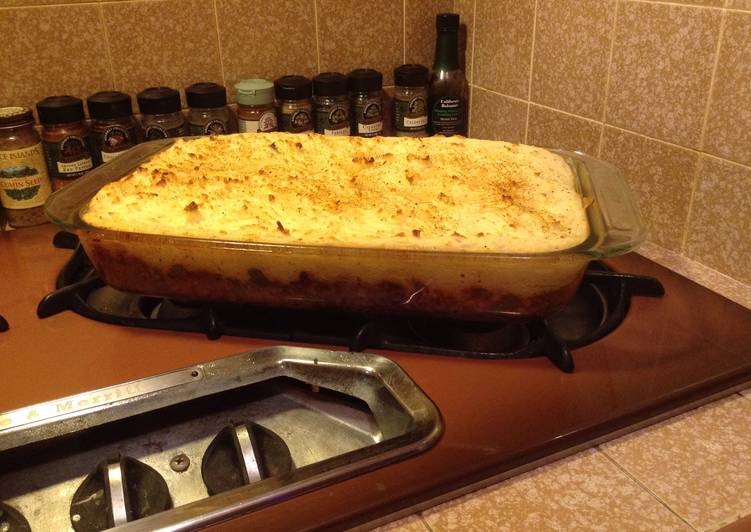 You can have Teeney's American Shepherd's Pie using 15 ingredients and 8 steps. Here is how you achieve that.
Ingredients of Teeney's American Shepherd's Pie
You need 4 large of Potatoes.
It's 1 of Onion (chopped fine).
You need 2 cup of Sweet Corn.
You need 2 large of Carrots (peeled and chopped).
Prepare 1 tbsp of Minced Garlic.
It's 2 lb of Ground Beef.
It's 2 tbsp of Flour.
You need 1/2 cup of Worcestershire Sauce.
Prepare 2 can of Green Beans.
Prepare 1/2 cup of Beef Broth (possibly bullion instead for a more salty alternative).
It's 4 tbsp of Butter.
It's 1/4 cup of Half-and-Half or Milk.
It's 2 cup of Shredded Cheddar Cheese.
Prepare 1 of as needed Salt and Pepper.
It's 1 of Cumin, Rosemary and Thyme (optional).
Teeney's American Shepherd's Pie step by step
Preheat oven to 400°F..
Start the mashed potatoes: Peel and cut potatoes (1/2 inch or quartered). Place in pan and cover with cold water (1/2 in over potatoes). Set over high heat, cover and bring to a boil. [start step 3 then return to potatoes] ((Once boiling, uncover, decrease the heat to maintain a simmer and cook until tender and easily crushed with tongs, approximately 15-20 mins.)).
In a large sauté pan with oil, sauté onions and carrots, then garlic. Add ground beef and cook through until brown..
Continue filling: Sprinkle meat with flour and toss to coat. Add salt/pepper and cumin (optional), add Worcestershire Sauce, Beef Broth, and Rosemary/ Thyme (optional). Brind to boil, cover and simmer low and covered until sauce is thick (10-15 mins)..
Mash Potatoes: Add half-and-half or milk, butter, and salt/pepper to drained potatoes. Mash until smooth..
Continue filling: Add corn and green beans (peas optional) for just a few mins to heat..
Combine in lightly greased 3 qt casserole dish: Beef filling on bottom. Sprinkle layer of cheese on top. Top with mashed potatoes. (Make sure the potatoes seal the beef filling in so it doesn't boil and create a mess.) Use a fork to make rivets on the top of the mashed potatoes. Add small amount of paprika on top..
Bake dish for 25-30 minutes in oven at 400°F. Let cool (about 15 mins)..